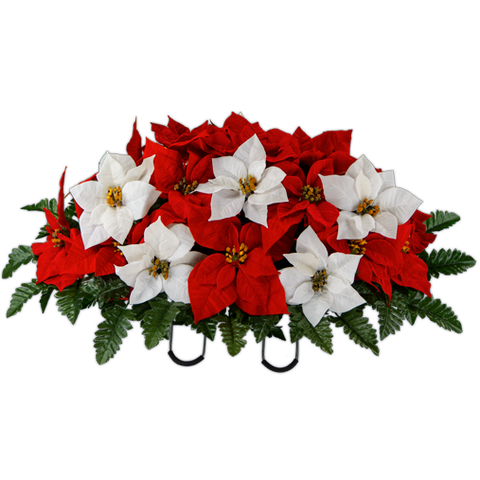 Red and White Poinsettia Monument Saddle
---
A cemetery saddle arrangement that features a mix of red and white poinsettias. Fern surrounds the bottom of the arrangement.

The saddle is 30 inches long, 18 inches wide and 10 inches tall.

MUST BE PLACED ON AN UPRIGHT MONUMENT ONLY!
This saddle is made on a metal frame designed to go on top of a monument. The "legs" of the saddle are adjustable, so they can be tightened or loosened to fit securely on the top of almost any monument.


NOTE: All decorations ordered online will be placed on grave sites beginning in early December of this year and will be removed and discarded starting on March 1 of next year. If you wish to keep your decoration, you must remove it before March 1 next year. Mount Hope Cemetery cannot retrieve or store any decorations.
DISCLAIMER: All sizes are approximate. Mount Hope Cemetery reserves the right to substitute any item for an item of equal value.
---
---
We Also Recommend